The most notable shift in the latest Dietary Guidelines is the move away from the low fat diet. The emphasis is now on fat type. But how will healthy eating advice evolve from here?
The first Dietary Guidelines in Australia were released in 1980 and recommended restriction of the total amount of fat in the diet as a strategy for chronic disease prevention. In the following 20 years this piece of dietary advice took precedence over all others and dominated the nutrition landscape. However, the writing has been on the wall for the low fat diet for many years now.
The end of the low fat era
The hypothesis that the percentage of dietary energy from fat was related to chronic disease risk was developed in the 1970s and put to the test in large cohort studies that commenced in the following decade and then in several randomised controlled trials. A string of null results followed in relation to breast cancer, bowel cancer, coronary heart disease and stroke. Perhaps most surprisingly, no association between total fat and obesity was observed in prospective cohort studies, and randomised controlled trials suggested minimal benefit.
In contrast, evidence from mechanistic studies, cohort studies and controlled trials confirmed that fat type was relevant to chronic disease risk, especially in relation to coronary heart disease.
For the first time in 33 years the latest Australian Dietary Guidelines no longer highlight the need to limit or 'moderate' total fat intake, completing the evolution of advice in favour of fat type that has gone through several stages. The guidelines now recommend limiting saturated fat and state:
• Limit intake of foods high in saturated fat such as many biscuits, cakes, pastries, pies, processed meats, commercial burgers, pizza, fried foods, potato chips, crisps and other savoury snacks.
• Replace high fat foods which contain predominantly saturated fats such as butter, cream, cooking margarine, coconut and palm oil with foods which contain predominantly polyunsaturated and monounsaturated fats such as oils, spreads, nut butters/pastes and avocado.
These recommendations are well founded. The first point focusses attention on limiting many nutrient-poor foods that are combinations of saturated fat and poor quality carbohydrate, which is now known to confer the same or greater coronary risk than saturated fat. The second point is arguably more important as it highlights the most desirable replacement for saturated fat in the diet – poly- and monounsaturated fats. This is the area where the science is clearest.
Overall, the implication is that the Mediterranean-type diet – moderate in both total fat and carbohydrate but low in saturated fat and enriched with unsaturated fats is now the preferred model for healthy diets. This general approach is also consistent with the latest Dietary Guidelines for Americans, which no longer advocate low fat diets and encourage the replacement of saturated fat with unsaturated fats.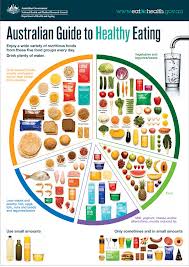 Image: source
Change to the food guide
There is only one significant change to the Australian Guide to Healthy Eating – the separation of unsaturated vegetable oils and spreads from the 'extras' or junk foods. This corrects a much criticised flaw in the previous guide and has been welcomed by the Heart Foundation. When the previous Australian Guide to Healthy Eating was released in the late 1990s the Heart Foundation contested the positioning of unsaturated vegetable oils and spreads with 'extras' and decided that it would not use the national food guide in any of its nutrition education materials, and it never did. The Heart Foundation's principled stand on this issue has now been vindicated and, after a 15-year stand-off, Australia's leading nutrition authorities now largely agree on the advice in relation to these foods.
But the new food guide isn't perfect. The use of the words 'choose small amounts' in relation to unsaturated vegetable oils and spreads is a mistake. It implies restriction and reflects a lingering nervousness about dietary fat and its potential to promote obesity, despite the authorities' own literature review showing no link.
The simple fact is that children's intakes of unsaturated fats need to increase by 30 percent if they are to approach the 'total diets' modelled during the development of the new food guide and this increase needs to come from somewhere. It can't come from meats and dairy foods as these foods are also rich in saturated fat. That just leaves nuts and seeds, which are only consumed by a small proportion of the population, and unsaturated vegetable oils and spreads. This inconsistency between the science in the Dietary Guidelines and its communication really should have been sorted out. 'Choose unsaturated oils and spreads' would have been an appropriate and moderate recommendation.
About 36-41 percent of calories currently come from nutrient-poor foods high in saturated fat and/or poor quality carbohydrate. These foods are the obvious targets for energy restriction for weight management, not the major source of unsaturated fats.
Energy-dense, nutrient-poor foods
The term 'energy-dense, nutrient-poor foods' has found its way into the Dietary Guidelines, especially in relation to obesity. Interestingly, none of the evidence statements in the obesity section actually mentions 'energy-dense, nutrient-poor foods'. It's just a euphemism for junk foods which are assumed to be a problem. .
I must admit I find 'energy-dense, nutrient-poor foods' an imprecise, clunky term. After all, macadamias are energy-dense and nutrient-poor but this doesn't mean that they have no place in a healthy diet. On the contrary, the inclusion of these nuts in a diet has a potent effect on improving fat quality. White rice is quite energy-dense and certainly nutrient-poor but for some reason it's positioned as a food for daily consumption rather than with the other junk foods. If terms don't have a consistent meaning alternatives need to be considered.
The 'energy-dense, nutrient-poor' terminology can be expected to evolve further in the years ahead. As calculations of nutrient density are usually based on a fixed amount of calories, energy density and nutrient density are not distinct concepts – they overlap. Contrary to popular belief, energy density is not a useful measure of the healthiness of foods or diets in relation to the prevention of obesity. Nutrient density is a cleaner measure and this concept has already been embraced in the Dietary Guidelines for Americans.
But nutrient density is not sufficient by itself. Future models for classifying junk foods and healthier foods will need to combine nutrient density with measures of fat quality and carbohydrate quality.
Carbohydrate quality: an evolving concept
While fat quality is now well understood, the concept of carbohydrate quality is undeveloped and remains contentious. In the latest Dietary Guidelines carbohydrate quality remains narrowly conceived around added sugar and wholegrains, with no consideration (not even a literature review) of glycaemic index. However, a debate on this topic is now underway internationally and its conclusions will guide the further evolution of dietary advice in the years ahead.
I'll cover the latest contributions to this debate in my next post.

Image: source