The Five Food Groups concept has been a cornerstone of nutrition education for decades. But are they based on good science and logic? Do the Five Food Groups make sense?
Food groups and 'distinguishing nutrients'
The concept of food groups has been central to nutrition education in many countries for decades. It's a simple idea: different types of foods make distinctive contributions to the diet so eating a variety of foods from the different food groups should ensure adequate intakes of essential nutrients.
Although all whole foods contain small amounts of a wide variety of nutrients, the distinctive contribution of a food group is due to 4-6 'distinguishing nutrients' found in abundance. As foods in the same food group share distinguishing nutrients they can be exchanged without compromising nutrient intake. This nutritional equivalence allows flexibility in food choice.
Vegetables and fruits: two food groups or one?
In Australia, fruits and vegetables appear in two separate food groups but the rationale for two food groups is not at all clear. The dietary modelling conducted for the latest Australian Guide to Healthy Eating highlights the distinguishing nutrients of fruits and vegetables:
Vegetables: Vitamin C, fibre, folate, vitamin B6, potassium, beta-carotene
Fruit:            Vitamin C, fibre, folate, vitamin B6, potassium.
Aren't the distinguishing nutrients for both food groups almost exactly the same? Don't these food groups do the same job? In early versions of the Five Food Groups vegetables and fruits appeared in one food group but separation into two groups was suggested in 1994 in a NHMRC report called The Core Food Groups. The report stated that 'It was necessary to group fruit and vegetables separately because of their differing nutrient profiles'. Really?
Consolidating these similar food groups into one would appear to make sense and would provide more flexibility for those who find it difficult to eat five serves of vegetables each day, which is most of us.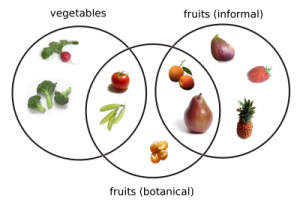 Image: source
Grain foods: distinguished by fortification
The dietary modelling for the new food guide demonstrates the distinctive and very substantial nutritional contribution of the grains food group. In the Foundation Diet for women aged 19-30 years, grains provide 62% of the thiamin, 55% of the folate, 46% of the iron, 39% of the iodine, 38% of the fibre, 32% of the niacin and 28% of the riboflavin. That's impressive. By far the majority of these nutrients come from wholegrain cereals, though I suspect these were actually fortified wholegrain cereals.
Compare the nutritional content of 600kJ of the following grain foods, expressed as a percentage of the relevant Nutrient Reference Value.
Grain          White rice     Brown rice     W/meal pasta     'Weetbix'
Thiamin      6%                9%                 31%                     94%
Folate         2%                6%                 3%                       88%
Iron             7%                8%                 32%                     65%
Fibre           2%                6%                 25%                     19%
Niacin         13%              24%               29%                     77%
Riboflavin   1%                3%                 9%                       78%
This table demonstrates some key points:
• refined grains are relatively nutrient-poor
• wholegrains are slightly better, but
• only fortified grains are nutrient-dense.
Fortification strongly shapes the nutritional contribution of the grains food group. As we enter the era of carbohydrate restriction there will be an increased focus on nutrient-rich carbohydrate foods and in the case of grains that means more emphasis on the fortified foods – breads and breakfast cereals – and less on white rice and plain pasta.
Dairy foods: should they be a group?
It has been argued that dairy foods hold a privileged position in Five food Groups and could be grouped with meats with which they share distinguishing nutrients, such as protein and vitamin B12.
The latest Harvard Healthy Eating Plate went even further, excluding dairy products altogether. This seems to be a step too far as the rationale was fairly weak. The Harvard team point out that dairy products are rich in saturated fat, but why not just recommend lower fat dairy foods? They argue that high intakes of calcium do not translate directly into stronger bones and that other factors are relevant, such as vitamin D and physical activity. Fair enough, but aren't they all pieces of the same puzzle?
Harvard concedes that "Moderate consumption of milk or other dairy products—one to two servings a day—is fine, and likely has some benefits for children."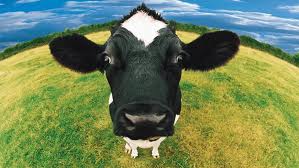 Image:source
Meats and alternatives: the illogical food group
Unfortunately, the logic of distinguishing nutrients that underpins the Five Food Groups falls apart when we get to the meat, fish, poultry and 'alternatives' food group. Our current Dietary Guidelines for Australians report describes the distinguishing nutrients of this food group as protein, bioavailable iron, zinc, vitamin B12 and long-chain omega 3s. This is valid for red meats, poultry and fish but not for legumes and nuts.
The marked lack of nutrition equivalence in the meats and alternatives food group has been documented. Although legumes and nuts contain iron its absorption from these foods is very low, about 1-2%. Phytates, found in abundance in legumes and nuts, are also potent inhibitors of zinc absorption. And legumes and nuts contain no long-chain omega 3s or vitamin B12. However, legumes and nuts contain dietary fibre, unlike the animal-sourced foods in this group. These are very different foods.
Despite these inconsistencies the composition of this food group won't change because it reflects an ideological view strongly held by some of the nutrition profession. It's not driven by science; it's all about us.
Legumes can at least claim to be a protein food, which is more than can be said for nuts. The recent dietary modelling for the next food guide noted that nuts 'have a different protein to energy ratio compared with other components of the meats group', a delicate way of saying that the major macronutrient in nuts is not protein, but fat.
Healthy fats: the missing food group?
If nuts and seeds are a poor fit in the meats food group, where do they belong? Is it too radical to suggest that they belong in their own food group, together with the oils that are derived from them and foods made from these oils, such as unsaturated margarines, salad dressings and mayonnaise? Such a food group would certainly have its own distinguishing nutrients – fat-soluble nutrients. The dietary modelling conducted for the latest food guide (p276) highlights that although these foods contributed just 10.2% of dietary energy in a Foundation Diet they provided 47% of the linoleic acid, 50% of the alpha-linolenic acid, 44% of the retinol, 29% of the vitamin E and 26% of the vitamin D. That's a substantial and very distinctive contribution.
Shouldn't there be at least one food group designed to encourage adequate intakes of fat-soluble nutrients? Fats were included as a food group in Australia's Five Food Groups until 1998 when fat phobia overwhelmed our nutrition authorities. They still haven't quite recovered.