The draft Australian Dietary Guidelines were recently put out for consultation and after a four-year gestation we might have expected a highly polished report, clearly communicating the latest evidence-based nutrition. The reality was very different. The draft Australian Dietary Guidelines report was a very strange document with nutrition science jostling awkwardly with motherhood and ideology. Some important areas of the nutrition literature were reviewed in great depth, but others were not reviewed at all and significant shifts in the science were missed. The translation of the findings of literature reviews into dietary advice appeared to be compromised in two ways – by a conservatism that didn't want to see change to long-standing messages about diet and health and an activism for change driven by environmental concerns, not by nutrition science.
As a result the Guidelines fall short scientifically in seven areas. These are reviewed below and will be considered in more depth in the weeks ahead.
Low fat diets
The Dietary Guidelines continue to advocate diets low in fat, despite there being no scientific justification for this approach. None of the systematic literature reviews conducted during the development of the Guidelines established a link between total fat intake and any condition of public health significance, including obesity. Nevertheless, the low fat approach was still embraced on the grounds that it was 'prudent'. This is dietetic dogma at work – my term for the conservative mindset that just can't let go of old dietary advice, even when it is no longer scientifically valid.
Controversially, the Guidelines recommend restriction of all types of fat in the diet, even unsaturated fats which are considered to be protective against coronary heart disease. In an article in The Australian newspaper in March 2012 a leading Australian nutrition scientist, the Heart Foundation and the Dietitians Association of Australia all criticised this aspect of the Guidelines. This problem arose because key literature on saturated fat, carbohydrate and heart disease was simply not reviewed.
Saturated fat, carbohydrate and heart disease
Limiting saturated fat intake has been a fixture in many Dietary Guidelines for years on the grounds that saturated fat raises the level of LDL-cholesterol in the blood, thereby increasing the risk for coronary heart disease. In Australia the preferred replacement for saturated fat has been carbohydrate, encouraging diets low in both saturated fat and total fat. However, a key study published in 2009 confirmed that carbohydrate and saturated fat confer the same risk for heart disease, so swapping one for the other has no effect on risk. As a consequence, unsaturated fats have become the recommended replacement for saturated fat and this approach has been incorporated into the Dietary Guidelines for Americans (2010).
It is hard to believe that there was no systematic literature review into the role of saturated fat in heart disease risk during the development of the latest Australian Dietary Guidelines. Instead, the literature review for the 2003 Dietary Guidelines was relied upon. So in this key area, the Dietary Guidelines are out of date, inconsistent with the dietary guidelines of other countries and inconsistent with the positions of many leading research and nutrition authorities.
The higher-than-expected risk of dietary carbohydrate has highlighted the need to eat less carbohydrate (not less fat) and to choose 'good' carbohydrate foods. But what do the Dietary Guidelines tell us about carbohydrate quality?
Added sugar
The Dietary Guidelines recommend that intake of foods with 'added' sugar be limited. But is the amount of added sugar in a food really a good measure of its nutritional quality? Certainly, sugary foods and drinks can increase the risk of tooth decay, especially in those with poor oral hygiene, but this is also a problem with natural sugars. The same goes for the starch found in rice, potato or bread which breaks down to sugars in the mouth under the action of digestive enzymes.
Another problem with targeting added sugar is the widely varying nutritional value of foods with added sugars. At one end of the scale soft drinks and some confectionery may contain virtually no nutrients other than sugar, but sugar-sweetened foods such as flavoured milk, fruity yoghurts and some breakfast cereals are nutrient-rich. Is it really wise to limit intake of these nutritious foods?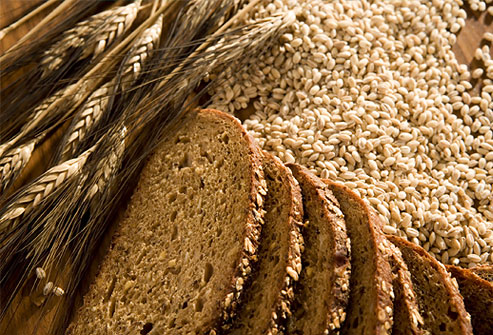 Wholegrains
(Image source)
Wholegrains are enthusiastically embraced in the draft Dietary Guidelines and this is really the only measure of carbohydrate quality considered, other than added sugar. Wholegrains are recommended as being highly nutrient-dense and also protective against heart disease and type 2 diabetes. On the surface this appears to be scientifically sound and sensible advice, but the issues are not straightforward. Firstly, although nutrient density makes sense as a measure of the quality of carbohydrate-rich foods, many wholegrains are not highly nutrient-dense, as claimed. Secondly, many of the studies used to support the wholegrains recommendation were actually conducted using high fibre foods, suggesting that recommending high fibre cereal foods would be equally valid. Why recommend one but not the other?
A third concern is the lack of a plausible mechanism explaining the apparent protection of wholegrains against heart disease observed in some epidemiological studies. A study that went looking for the mechanism found nothing. Is the idea of the healthiness of wholegrains so appealing that nutritionists now accept the evidence they like and ignore the evidence they don't?
Finally, many wholegrain foods have a high glycaemic index, which is gaining in importance as a measure of carbohydrate quality.
Glycaemic index
The glycaemic index or GI is a measure of the blood glucose-raising potential of a carbohydrate-rich food. Early interest in the GI focussed on its potential role in the diets of people with diabetes but more recent evidence suggests that GI has a broader role. GI is related to the risk for coronary heart disease – high GI foods appear to pose greater risk than saturated fat. And GI also has a role to play in weight management. A large European trial recently showed that the GI and protein content of the diet were important factors for maintaining weight loss.
One would have expected to see systematic literature reviews on these issues as part of the development of the new Dietary Guidelines, but not a single review relating to GI was conducted.
Trans fats
Trans fats have been introduced into the Australian Dietary Guidelines for the first time but one has to ask why? Again, no systematic literature review of trans fats and health was conducted so there was no evidence base. The text of Guidelines report contained just two sentences on trans fats which noted that intake of trans fats in Australia is low – half the maximum level recommended by the World Health Organization. Furthermore, three quarters of the trans fats in the Australian diet now come from ruminant fats (meat and dairy fat). As these fats are also rich in saturated fats, any recommendation to limit saturated fats will also serve to further lower trans fat intake. The problem of trans fats has been well and truly addressed over the last 15 years, so why bother alerting the general public to the issue now?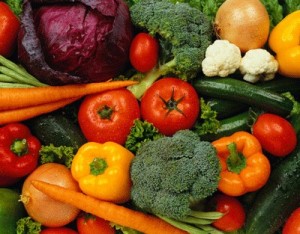 Fruit, vegetables and cancer
(Image source)
The view that fruits and vegetables provide protection against cancer is widely held among nutritionists but is largely based on the results of old case-control studies, known for their bias. When this hypothesis was tested in large cohort studies the results were not encouraging. It is now clear that if fruits and vegetables have any effect on the risk for cancer it is very weak. In response, the World Cancer Research Fund downgraded the evidence of a link in its 2007 report. In the Dietary Guidelines for Americans, the whole section on fruit, vegetables and cancer was removed from the 2010 edition.
In the Dietary Guidelines process there may not have been any systematic literature reviews into saturated fat, trans fats or glycaemic index but there was a major evidence hunt for a link between fruit, vegetables, legumes and cancer. No less that 21 literature reviews were conducted. And the result? No 'convincing' or even 'probable' evidence of a link. But rather than follow the American lead and simply delete the issue, the Australian Dietary Guidelines doubled the amount of text devoted to this topic and painted a misleading picture suggesting that evidence for a protective effect of fruit and vegetables against cancer is building.
Is this evidence-based nutrition or something else?