Limiting saturated fat intake has been recommended for decades as a way of lowering the risk for coronary heart disease. However, this recommendation needs to be revised following recent findings that saturated fat and carbohydrate confer the same risk for heart disease. Now the best advice is to replace saturated fat with unsaturated fat.
In the beginning: the Seven Countries Study
The Seven Countries Study shaped the thinking of a generation of nutritionists. In this famous study the diets in fifteen cohorts of subjects in seven countries were examined and the risk for various diseases was estimated over time. The most compelling finding was the positive association between dietary saturated fat and the risk for coronary heart disease – the lower the intake of saturated fat, the lower the risk for heart disease.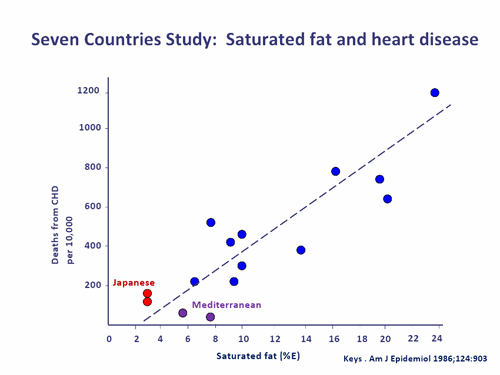 Image source: Redrawn from Keys et al. Am J Epidemiol 1986;124:903
Importantly, it didn't seem to matter how a low saturated fat intake was achieved. In some Mediterranean countries where olive oil was used extensively, saturated fat was effectively replaced by monounsaturated fat – the diets were moderate or even high in total fat. The rice-based diets in Japan were very different – saturated fat was effectively replaced by carbohydrate and total fat intakes were very low. Two models of healthy eating were born, both focussed on lowering saturated fat intake, but as concern about total fat intake increased in Australia and the United States the low fat, low saturated fat diet became the recommended diet.
The paradigm shifts
The simple story suggested by the Seven Countries Study started to unravel when large prospective cohort studies conducted in single countries, with subjects from similar socioeconomic backgrounds were commenced. These studies were designed to limit the likely confounding at play in cross-cultural comparisons such as the Seven Countries Study. In 2005, the 20-year findings of the Nurses' Health Study, conducted in the United States, were published and confirmed the study's earlier findings that the risk for coronary heart disease associated with eating saturated fat and carbohydrate were similar. Polyunsaturated and monounsaturated fats were associated with lower risk.
There was always the possibility that the Nurses' Health Study findings reflected an American phenomenon so there was great interest in a recent pooled analysis of 11 European and US cohort studies. The results – the coronary heart disease risk associated with saturated fat and carbohydrate were the same. The best reduction in heart disease risk occurred when saturated fat was replaced by polyunsaturated fat.
All nutritionists should read this study and contemplate its implications.
The low fat diet is dead
The most important implication is that the low fat diet is dead, at least as a strategy for preventing heart disease. If saturated fat and carbohydrate confer the same risk for heart disease there is nothing to be gained by swapping one for the other. Low fat diets may actually increase the risk for heart disease if unsaturated fats are displaced by carbohydrates.
For some nutritionists, the demise of the low fat diet actually occurred in 2006 with the publication of the Women's Health Initiative, the largest randomised controlled dietary trial ever conducted. Nearly 49,000 United States women participated in the study into whether a low fat diet affected the risk for major cancers and cardiovascular disease. Risk for myocardial infarction and stroke was unaffected after eight years on the low fat diet. So neither randomised controlled trials nor cohort studies support a protective role for low fat diets against heart disease.
Replace saturated fat with unsaturated fat
'Limit saturated fat' is no longer evidence-based advice as it implies that saturated fat can be replaced by anything – carbohydrate, monounsaturated fat or polyunsaturated fat – and benefit will follow. If carbohydrate is not a beneficial replacement, the advice needs to become 'replace saturated fat with unsaturated fat' and this is the approach adopted in the Dietary Guidelines for Americans (2010). As one type of fat is replacing another, the recommended fat content of heart healthy diets is now moderate, not low.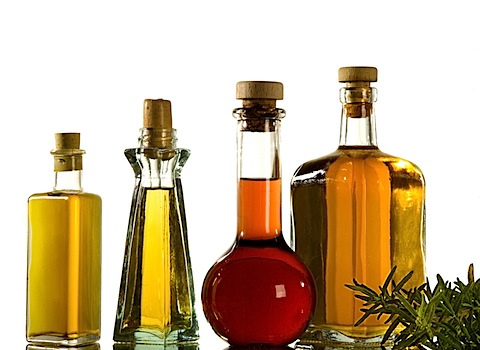 Image source
So the Mediterranean-type diet has won the day, though the concept needs to be broadened to include polyunsaturated fats which may turn out to be the ideal replacement for saturated fat. The benefit of replacing saturated fat with polyunsaturated fat was confirmed by a recent meta-analysis of randomised controlled trials. The authors argue that the limit of 10% of energy that is sometimes suggested for polyunsaturated fat intake is not evidence-based. There is precedent for high polyunsaturated, low saturated fat diets e.g. the Taiwanese diet where soybean oil – 'the olive oil of the East' – is widely used and coronary heart disease rates are low.
Dietary Guidelines
Don't expect to find any of these important findings in the new Australian Dietary Guidelines because, inexplicably, the evidence linking saturated fat with coronary heart disease was not even reviewed. The expertise to interpret the new evidence was certainly available in Australia. In 2010, leading fats experts Professors Andrew Sinclair and Paul Nestel participated in an international expert consultation on this issue and Professor Peter Clifton discussed it at the recent International Symposium on Atherosclerosis.
We are now confronted with the possibility that the 2010 Dietary Guidelines for Americans will be up-to-date on saturated fat but the 2012 Australian Dietary Guidelines will not.
Are carbohydrate recommendations too high?
Another important implication is that current recommendations for dietary carbohydrate may be too high. In Australia, the recommended range for carbohydrate intake is 45-65% of dietary energy – a rather high range that was recommended at a time when low intakes of total fat were thought to be beneficial for health. The mean intake of carbohydrates by Australian adults falls on the lower boundary of this range, suggesting that the health of many adults would be improved by the consumption of more carbohydrate. However, feeding more carbohydrate to an increasingly overweight, sedentary, insulin resistant population is not a recipe for health. Eating less carbohydrate and more unsaturated fats would be more beneficial for heart health. Both boundaries of the current recommended carbohydrate range appear to be too high.
Better quality carbohydrates?
Although total carbohydrate is associated with similar heart disease risk to saturated fat, it would be expected that some carbohydrate-rich foods are better than others i.e. that there are good and bad carbohydrates. But carbohydrate quality remains a poorly defined concept. What are the key parameters? Should nutritionists focus on sugars, complex carbohydrates, glycaemic index, dietary fibre, wholegrains or nutrient density?
I'll be exploring the issue of carbohydrate quality in a series of articles in the coming weeks.