According to advocates of low carbohydrate diets a key benefit is the effect on triglycerides in the blood. The argument goes that a high level of triglycerides is linked to increased risk for coronary heart disease; low carb diets lower triglycerides; so low carb diets should lower the risk for heart disease. Sounds plausible enough, but is it true?
Blood lipids and heart disease risk
The approach to managing blood lipids to lower heart disease risk has evolved over time as our understanding of this complicated field has grown. Decades ago the focus was on lowering total cholesterol but this was later narrowed down to LDL-cholesterol – 'bad' cholesterol for the lay person. 'Good' HDL-cholesterol was considered protective and the balance between the bad and the good – the LDL/HDL ratio – came into use. More recently, the total cholesterol/HDL ratio has been considered to be a better measure as all non-HDL-cholesterol appears to increase heart disease risk.
What about triglycerides?
If you are interested in how triglycerides affect the risk for heart disease and how diet affects blood triglycerides look no further than the American Heart Association's scientific statement Triglycerides and Cardiovascular Disease. You may need to allocate an afternoon as the paper is very comprehensive and has over 500 references.
The AHA report states that high levels of triglycerides are associated with higher risk for heart disease but then delves into the long-standing debate about whether high triglycerides actually promotes heart disease or is simply a marker of risk.
The issue here is that high triglycerides are often associated with low levels of protective HDL-cholesterol. In fact, the two are metabolically linked – if triglycerides go up, HDL-cholesterol goes down. As low levels of HDL-cholesterol strongly predict higher heart disease risk, HDL seems to be the key player and triglycerides its faithful companion.
Image: source
Factors affecting triglycerides and HDL
Several aspects of diet and lifestyle affect triglycerides and HDL-cholesterol in the blood. Weight loss of 5-10% results in a 20% fall in triglycerides and increases HDL-cholesterol. Similar effects can be achieved with increased physical activity. Long chain omega 3s or fish oils also lower triglycerides, though quite high intakes are required to achieve the effect. And high intakes of alcohol can increase triglycerides. The amounts of fat and carbohydrate in the diet are relevant too.
High carbohydrate diets: adverse effects?
Very high carbohydrate diets certainly raise triglycerides and lower HDL-cholesterol. This is one of the reasons that the US Institute of Medicine and the NHMRC recommend upper limits of carbohydrate intake of 60-65% of calories. If these upper limits appear high it's because increasing the carbohydrate content of the diet at the expense of saturated fat also lowers total and LDL-cholesterol – beneficial effects.
So when considering the effects of high and low carbohydrate diets it's important to consider overall effects on blood lipids. Just focussing on triglycerides will only tell part of the story.
Carbohydrate quality
Carbohydrate-rich foods vary enormously – from jelly beans to red kidney beans – and it would not be surprising to find that different carbohydrate-rich foods affect blood lipids differently. The DASH diet was rich in carbohydrate from fruits, vegetables and wholegrains and lowered blood pressure, but it did not raise triglycerides. Carbohydrate quality was high and consequently high carbohydrate intake did not adversely affect blood lipids.
Fructose has a reputation for being triglyceride-raising though a meta-analysis showed that replacing starch or sucrose with fructose had no effect on fasting triglycerides at intakes of up to 100g a day. The triglyceride-raising effect was observed at higher intakes of fructose. Another meta-analysis suggested that people with diabetes, who are prone to high triglycerides and low HDL, may be more sensitive to fructose. But intakes of over 60g a day were still needed to demonstrate an effect on triglycerides, which equates to about 12% of calories in a 2000 calorie diet. So even in this at-risk group the fructose message is about moderation rather than avoidance.
New meta-analysis: sugars and blood lipids
A new meta-analysis of studies into the effect of sugars on blood lipids was published by Te Morenga and colleagues in May of this year. As expected they reported that higher sugar intakes are associated with higher blood triglycerides but perplexingly they found that sugars raised the level of protective HDL-cholesterol. This doesn't make much sense given the metabolic link between the two. One of the problems with this study is that it is not clear what sugars are being compared to. Is it starch, or total fat, or specific types of fat?
Sugars were found to increase LDL-cholesterol but again we don't know what the reference is. Based on previous work it could be expected that sugars would raise LDL-cholesterol compared to polyunsaturated fat but lower it relative to saturated fat. The reference is critical to the finding. Unfortunately, effects on overall measures of lipid-related risk, such as the total cholesterol/HDL ratio, were not reported. And some of the studies included did not have strict control of energy intake, which is interesting given the effects of positive and negative energy balance on blood lipids. Quite a few of the studies were conducted in the 1960s or 70s and heterogeneity was high.
Make up your own mind on this one. It's clear that we need some new, well designed studies to guide policy on sugars.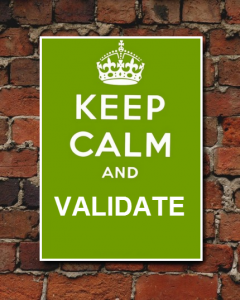 Image: source
Low carbohydrate diets: good or bad for blood lipids?
The effect of carbohydrate on triglycerides is a weak rationale for recommending a high or low carbohydrate diet. Overall effects on blood lipids need to be considered and in the case of low carbohydrate diets this will largely be determined by the type of fat that replaces carbohydrate. If it is unsaturated fat, as recently trialled by CSIRO in people with diabetes, a low carbohydrate diet confers benefit. However, there is no benefit if saturated fat is used to replace carbohydrate.
One of the lingering mysteries about the current enthusiasm for low carbohydrate diets is the frequent recommendation by unqualified, self-declared authorities to increase intake of saturated fat, rather than unsaturated fats.
Hmmm. Why would anyone make such a recommendation?