Credible nutrition scientists have opposing views on whether omega 6 in vegetable oils is good for heart health. But who is right?
Part 1 of this series examined claims that omega 6 in vegetable oils causes ill health by increasing the risk for cancer, macular degeneration, Parkinson's disease and inflammatory conditions, such as rheumatoid arthritis, ulcerative colitis and asthma. These claims, frequently expressed on the internet and in social media, were found to be baseless.
Part 2 will consider whether omega 6 increases or decreases the risk for coronary heart disease. Unlike the wild social media claims about omega 6, this issue is argued in the scientific literature with credible scientists on both sides. Whose argument is stronger?
The conventional wisdom
Leading heart health agencies such as the Heart Foundation, the American Heart Association and the World Health Organisation assert that polyunsaturated fats (mainly omega 6) are heart healthy and that they may be the ideal replacement for saturated and trans fats in the diet. The case appears to be strong:
• Polyunsaturated fat (mainly omega 6) has a beneficial effect on blood lipids. When saturated fat is replaced by polyunsaturated fat the level of serum LDL-cholesterol and the total cholesterol/HDL cholesterol ratio both fall, which is consistent with lower risk for coronary heart disease.
• Epidemiological studies indicate that polyunsaturated fat (mainly omega 6) is heart friendly. A pooled analysis of 11 prospective cohort studies conducted in Europe and the United States shows that replacing saturated fat with polyunsaturated fat lowers coronary risk more than other macronutrients.
• In randomised controlled trials coronary heart disease risk falls when saturated fat is replaced by polyunsaturated fat (mainly omega 6) – see Harvard's meta-analysis.
So the conventional wisdom is based on three consistent lines of evidence with a rare meta-analysis of randomised controlled dietary trials sitting on top. Impressive. How could you argue against it?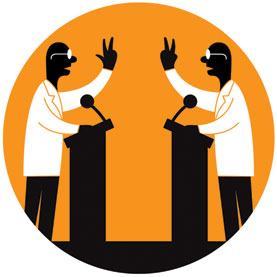 Image: source
The alternative view
Although in the minority, credible scientists do argue against it. In relation to mechanism, it is argued that omega 6 antagonises omega 3, offsetting the heart health benefits of the latter. Omega 6 is also said to pro-inflammatory (though this is a dubious claim – see Part 1 of this series). These effects are presumed to overwhelm the beneficial effects of omega 6 on blood lipids.
In the absence of supporting epidemiological evidence, the argument that omega 6 has adverse effects on heart health really rests on a recent meta-analysis of randomised controlled trials that comes to different conclusions to the Harvard meta-analysis mentioned above.
Duelling meta-analyses
How can two meta-analyses of essentially the same data lead to differing conclusions?
Although both meta-analyses considered polyunsaturated fat-for-saturated fat exchanges, the recent meta-analysis sought to separate those trials that used pure omega 6 as a substitute for saturated fat from those that used mixed polyunsaturated fats i.e. omega 6 plus omega 3. But the trouble was there were few studies with pure omega 6 interventions, just the large Minnesota Coronary Survey (men and women) and the tiny Rose Corn Oil Trial. Undeterred, the researchers went looking for more pure omega 6 trials and identified the 40-year old Sydney Diet-Heart Study. The data for this study had to be completely re-analysed in order to be considered in the meta-analysis, an amazing effort in itself.
When the results of the mixed polyunsaturated fat studies were meta-analysed they showed a fall in heart disease risk, essentially the same result as that observed in the Harvard meta-analysis. But the effect of the pure omega 6 studies was a non-significant rise in heart disease risk which led the researchers to conclude that there was 'a possibility of harm' associated with omega 6.
A sceptical nutritionist's view
The conclusion that omega 6 is possibly harmful essentially relies on two studies, both of which are problematic. The Sydney Diet-Heart Study did not employ a pure omega 6-for-saturated fat exchange as claimed. This old trial replaced saturated fat with Miracle polyunsaturated margarine, which in the early 1970s contained about 15% trans fatty acids. So, the intervention was the replacement of saturated fat with omega 6 and trans fats. Given the high risk associated with trans fats is it any wonder that heart disease risk did not fall? But why attribute the lack of benefit to the omega 6 and not to the trans fats?
The Minnesota study was a large well designed trial that was supposed to be conducted in institutionalised subjects over five years. However, a policy of de-institutionalisation brought the study unstuck. Rather than subjects receiving five years of dietary intervention, the average time on the trial was just over a year – too short to see any benefit from a lipid lowering trial of this size. So the observed lack of benefit in this trial is actually the expected result.
Randomised controlled dietary trials are notoriously difficult to conduct and all of the trials included in these meta-analyses have shortcomings, but basing a contrarian position on the non-significant findings of these two trials is drawing a rather long bow.
Following the publication of the recent meta-analysis several experts wrote to the relevant journal encouraging the authors to 'consider all the evidence' in coming to conclusions about omega 6. Good advice for us all.
Conclusions
At this stage the evidence that omega 6 in vegetable oils confers a heart health benefit when it replaces saturated fat in the diet is much stronger than the counter argument. However, if you are still sitting on the fence, it is worth remembering that no heart health agency actually recommends that pure omega 6 replace saturated fat. The advice is to replace saturated fat with polyunsaturated fats – both omega 6 and omega 3. Both duelling meta-analyses support this position so maybe the two sides of this argument are not as far apart as it seems.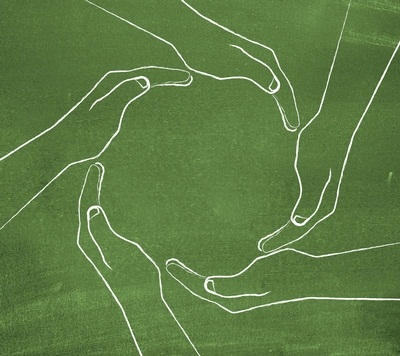 Image: source