At last a trial of monounsaturated-rich Mediterranean diets for the primary prevention of cardiovascular disease has been published and the results are impressive. The missing piece of the puzzle is now in place. Mediterranean-type diets, moderate in total fat but enriched with unsaturated fats, are now the preferred model for healthy diets. But will nutritionists pay any attention or cling to the low fat dogma for a little longer?
Although advice to eat less saturated fat has been a fixture in Dietary Guidelines for three decades, the last four years have seen a spirited debate about what should take its place in healthy diets. As saturated fat is a macronutrient, one can't just 'eat less saturated fat' and maintain energy balance. Saturated fat needs to be replaced by something else, such as carbohydrate or unsaturated fats. Carbohydrate is now considered a poor replacement for saturated fat as these two macronutrients confer the same risk for heart disease. This leaves mono- and polyunsaturated fats as the better options to replace saturated fat, but which of these should be preferred?
Until recently, the evidence for polyunsaturates was stronger than that for monounsaturates. Both classes of unsaturated fats have beneficial effects on blood lipids and both appear to be protective against heart disease in observational studies. But the big difference in the evidence bases was that there have been many trials involving the replacement of saturated fat with polyunsaturated fat for the primary prevention of cardiovascular disease and the better trials have recently been subject to meta-analysis, providing a rare degree of confidence in this dietary recommendation.
In contrast, there had not been a single primary prevention trial of mono-rich diets, until now.
The PREDIMED Study
February this year saw the publication of the results of the PREDIMED Study, a randomised controlled trial for the primary prevention of cardiovascular disease using Mediterranean diets. This multi-centre trial conducted in Spain assigned subjects who were at high risk of cardiovascular disease to one of three diets – a control diet low in fat, or one of two Mediterranean diets enriched with either extra virgin olive oil or nuts. Energy intake was not restricted and exercise was not advocated.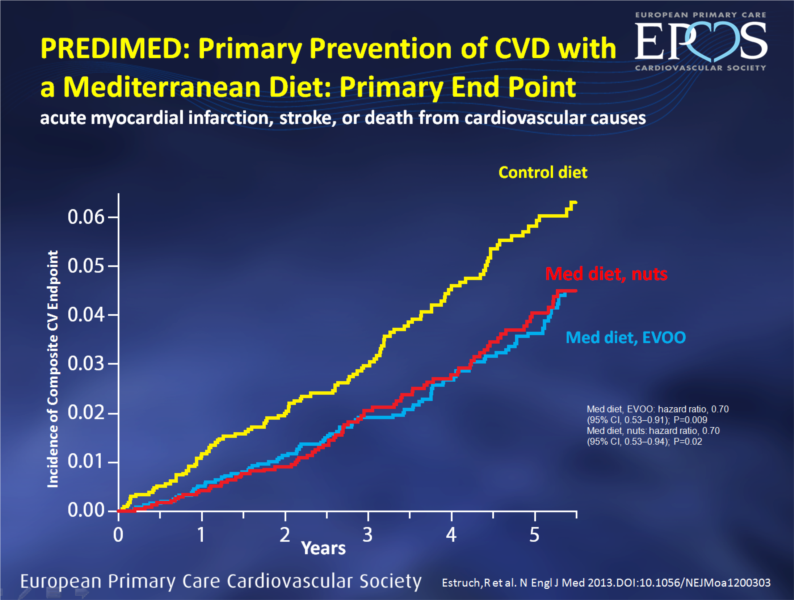 Image: source
After 4.8 years, both Mediterranean diets significantly lowered the rate of the primary end point (myocardial infarction, stroke and death from cardiovascular causes) by about 30 per cent relative to the low fat control diet. In those following the Mediterranean diets, favourable trends were seen for both myocardial infarction and stroke. No adverse diet-related effects were reported.
These exciting findings stand in contrast to those of the Women's Health Initiative, a huge US randomised controlled trial for the primary prevention of cardiovascular disease using a low fat diet which showed no benefit whatsoever. Thus PREDIMED provides a strong endorsement of the Mediterranean diet as the basis for healthy diets for the prevention of cardiovascular disease. The Mediterranean diets were also associated with lower risk for diabetes (see my earlier post).
Monos or polys?
In relation to the polys or monos question, the olive oil arm of PREDIMED was richer in monounsaturates than the nuts arm, which included poly-rich walnuts. The key point is that both diets were protective and equally so. Based on these findings it would appear that there is little to be gained from choosing polys over monos or vice versa – both appear to be good substitutes for saturated fat (and carbohydrate for that matter). Let's confine the monos versus polys argument to history.
In considering the results of PREDIMED it's important to bear in mind that this is a whole-diet study and that it is difficult to attribute the benefit to just one aspect of the diet. The foods consumed as part of the Mediterranean diets differed from the control diet in several ways – legume and fish intake, as well as nuts and olive oil intake, were higher in the Mediterranean diets. So it's a package deal – the benefit is associated with the whole diet.
The challenge for nutritionists
A generation of nutritionists (including me) was educated to think that a healthy diet is a low fat diet and the results of PREDIMED, and the Women's Health Initiative before it, provide further evidence that this is not the case. The PREDIMED investigators provided high fat foods to their subjects to provide benefit. A litre of olive oil per week was given to those in the olive oil arm of the study, an amount that may cause many dietitians to draw breath. And 210g per week of nuts were provided to those in the nuts arm.
The interventions were designed to enrich diets with foods high in unsaturated fats. How many of us think this way when we educate people about healthy eating?
There are only a few opportunities to build unsaturated fats into people's diets – vegetable oils, unsaturated spreads, salad dressings, mayonnaise, nuts, seeds and avocado come to mind. Yet much of our 'healthy eating' advice in recent years has actively discouraged use of some of these foods: 'avoid fried foods; use just a scrape of margarine on bread; and choose low-fat salad dressing and mayonnaise'. All of this advice has had the effect of withdrawing protective unsaturated fats from the diet. If body weight management is required the targets for energy reduction should be saturated fat and poor quality carbohydrates, not unsaturated fats. You know, baby, bathwater, etc.
But the low fat dogma runs deep. A challenge for nutritionists is to finally shake it off, relax about percent energy from total fat and undo some of the damage we have done over 30 years with poor advice to the general public about the role of unsaturated fats in healthy diets. The public will love us for it – Mediterranean diets actually taste good.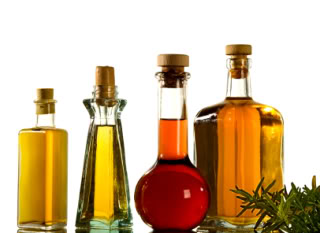 Image: source