Following the failure of the 'eat less fat' strategy for addressing the obesity epidemic the focus has shifted to sugar-sweetened beverages. Will this approach be more fruitful? Is sugar the problem, or is it liquid calories? Or are we missing something obvious?
Two new studies recently published in the New England Journal of Medicine have shed further light on the issue of soft drinks and weight gain.
Two new soft drink studies
Ebbeling and colleagues studied 224 overweight and obese adolescents who regularly consumed sugar-sweetened soft drinks. Half the subjects participated in a 1-year program designed to decrease consumption of these beverages. Both this intervention group and a control group were followed up for a further year after the intervention was complete. After one year the mean body weight of those in the intervention group was significantly lower (1.9kg) than that of the control group, though significance was lost at two years. So the program worked while underway but its effects did not persist.
The second study by de Ruyter and colleagues involved 641 primarily normal-weight children aged 5-12 years. Over an 18-month period half the children drank a sugar-sweetened soft drink each day; the other half drank an artificially sweetened soft drink. As these were growing children, body weights increased in both groups but those taking the sugar-sweetened soft drink gained a kilogram more than those drinking the artificially sweetened beverage.
Taken together, these studies suggest that sugary soft drinks may indeed increase the likelihood of weight gain. But why is it so?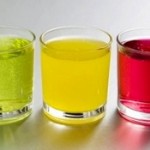 Image: source
Liquid calories and energy balance
One of the mysteries of modern nutrition is how anyone manages to maintain normal weight in our superabundant food environment. Despite very different diets, food intake varying from day to day and the vast number of calories in and out each year, most people manage to get the balance almost right. Energy intake is fairly tightly controlled by the sensations of hunger, satiation and satiety. When energy intake is too high or too low these sensations adjust to control energy intake. Yet the system of adjustment and compensation seems imperfect when it comes to sugar-sweetened soft drinks.
The main hypothesis explaining this phenomenon is that calories in liquid form do not trigger the same satiety response as calories from solid foods (see Malik 2010), so the compensation for liquid calories is incomplete allowing overconsumption of energy. But is this a reasonable explanation? Aren't stomach contents liquid? Why would the solid or liquid form of a food outside the body have an effect once the foods are sloshing around in your tummy?
What about milk?
In the best study so far linking individual foods to future weight gain Mozaffarian and colleagues showed that most calorie-containing beverages were associated with future weight gain, including sugary soft drinks, fruit juice and alcoholic beverages. But there was one notable exception – milk. Both whole milk and low fat milk were not associated with weight gain.
Effects on satiety may be the key. A West Australian study published a few years ago looked at how consuming fruit juice and skim milk affected satiety. Even though the volume and calories of the milk and juice were exactly the same, subjects found the milk to be more satiating than the juice. And calories consumed at a subsequent meal were lower after the skim milk.
Image: source
Is it the protein?
Soft drink, fruit juice and skim milk are all liquids and they all contain sugar so what explains the very different effects of these beverages on satiety and weight gain? It is tempting to think that the answer is protein. Some years ago Professor Steve Simpson from the University of Sydney proposed the Protein Leverage Hypothesis which suggested that dietary protein was the key to understanding the obesity epidemic and how it could be addressed. Based on extensive evidence from other species Simpson proposed that human appetite was not driven energy requirements alone: we ate to a protein target.
According to the hypothesis, if the available diet is relatively protein-rich the target for protein will be met well within caloric requirements, satiation will occur and eating will stop. This would explain the apparent benefits of higher protein diets for weight management. On the other hand, if the diet is rich in carbohydrate and fat but low in protein people need to eat a lot of food before meeting the protein target and they will tend to over-consume energy. Seen through this prism the problem with soft drinks is their lack of protein when compared to beverages such as milk.
Liquid meal replacements
Since we are discussing sugar-sweetened beverages and body weight, it is worth remembering that the evidence in favour of liquid meal replacements for the management of body weight is quite strong. A meta-analysis of six studies has shown that weight reduction using meal replacements was more effective than weight reduction using a conventional calorie-reduced diet.
Typically, liquid meal replacements are sugar-sweetened milk drinks. Again, being a caloric liquid or in this case a sugar-sweetened liquid, did not seem to pose a risk for obesity. On the contrary, the milk base of these products appears to offer a benefit.
Presence of harm or absence of goodness?
Nutritionists are conditioned to assess foods and drinks in terms of their sugar content and to pass negative judgement when 'added sugar' is present. But how are we to interpret evidence that sugar-containing beverages may be positively or negatively associated with weight gain, or neutral? Frankly, a focus on the sugar content of these beverages explains nothing.
Rather than sugar being an obesogenic agent or liquid calories being a problem, doesn't the evidence suggest that the key issue is the presence or absence of essential nutrients, especially protein? Wouldn't this explain why nutrient-poor soft drinks are less satiating and more likely to be associated with weight gain than milk or milk-based meal replacements, both of which are nutrient-rich?