The policy makers are desperate to do something about obesity but traffic light labelling would achieve nothing. The nutrition criteria at the heart of the concept are wrong.
Health authorities around the world have struggled to find effective ways of addressing the obesity epidemic. One recommended strategy is the introduction of traffic light labelling of food products to make it easier for the general public to choose healthier foods in the supermarket. It is argued that healthier food choices would not only tackle the obesity issue but could also address many other diet-related chronic diseases. Sounds good in theory but it simply won't work.
What is traffic light labelling?
Currently nutrition information on food packaging appears in the nutrition information panel where amounts of various nutrients per 100g of product or per serve are listed. It's all very quantitative – lots of numbers – and for many people it's just too technical and difficult to understand. The rationale behind traffic light labelling is to interpret the current nutrition information for the public and give it some meaning. Green, amber or red traffic lights would be assigned to 'nutrients of concern' such as fat, saturated fat, sugar and salt to indicate whether a product was low, medium or high in these nutrients. It is argued that with better communication of the nutrition information the public would make healthier food choices.
If you are interested in the argument in favour of traffic light labelling take a look at the Australian Medical Association's position papers on the issue.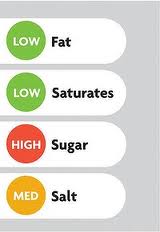 Image: source
Assumptions
There appear to be three assumptions underpinning the argument in favour of traffic light food labelling: (1) An unhealthy food can be defined in terms of its content of total fat, saturated fat, sugar and sodium, (2) people become overweight because they eat unhealthy food, and (3) communicating these nutrient details to the general public will change food choice. All three assumptions are debatable but let's focus on the first.
There is a fundamental problem with the nutrition criteria that have been included in the proposed traffic light model – total fat, saturated fat, sugar and sodium. Although some of these are linked to health outcomes, others are only useful for assessing certain food groups and some are totally useless. Let's start with a useless one.
Total fat as a criterion
The idea that the total fat content of a food is a measure of its healthiness is one of nutrition's great anachronisms. Thirty years ago it was hypothesised that total fat intake was linked to health outcomes – high fat intakes possibly increasing the risk for breast cancer, bowel cancer, coronary heart disease and obesity. Large prospective cohort studies were commenced to test the hypothesis but the results were overwhelmingly negative in relation to all of these conditions.
Image: Walter Willett: source
Here is how Walter Willett, professor of nutrition and medicine at the Harvard School of Public Health, summed up his presentation on fat and health at a conference in Boston at the end of 2010: In conclusion, let me reiterate that diets with a lower percentage of energy from fat do not reduce the risk of heart disease, diabetes, cancer, or adiposity. For some people, a reduction in total fat can actually be harmful if healthful fats are preferentially reduced. We should just clean up our dietary guidelines and remove any reference to percentage of energy from fat …
Think about this. If the fat content of the whole diet is not related to any outcome of public health significance, what possible purpose could be served by highlighting the fat content of an individual food?
What about saturated fat?
Saturated fat is a useful criterion for assessing fat-rich foods such as vegetable oils, margarines, salad dressings, dairy foods and meats. But it is totally inappropriate for assessing carbohydrate-rich foods based on, say, potato, cereal or fruits. Saturated fat and carbohydrate confer the same risk for coronary heart disease. Giving a green light on saturated fat to a carbohydrate-rich food would not only be wrong-headed scientifically it would send a misleading message to the general public.
Heart disease risk falls when saturated fat is replaced by unsaturated fats. This is the exchange that food labelling needs to encourage, not just lowering saturated fat.
Sugar
In an earlier post we noted that health authorities in both the United States and Europe have been unable to set an upper limit for sugar consumption for the prevention of any chronic disease, including obesity, so we won't go over this old ground again. But the situation is analogous to that of total fat: if the sugar content of the whole diet has negligible effect on health, what is the logic in focussing on the sugar content of an individual food?
The muesli example
A good example of how focussing on fat and sugar can send misleading and confusing messages was a review of 159 mueslis in the Australian Consumers Association's Choice magazine published last year. Much of the information presented in the article is factual, but the accompanying press release was titled 'Spoonful of muesli may be mouthful of sugar and fat'. The media loved it – it was one of those 'you think it's good for you but it's really not' stories. But it was very misleading.
The article noted that much of the fat in the mueslis actually came from nuts and much of the sugar came from dried fruit. So in this case the fat and sugar in the mueslis were markers of nutritious ingredients – nuts and fruits. So what was all the fuss about? How would Choice magazine advise a muesli manufacturer to improve the nutritional quality of its products? Cut back on the nuts? Cut back on the fruits?
Sugar and total fat are simply not useful measures of the healthiness of foods and diets. Highlighting their content in foods does not enable consumers to make healthier choices.
Would traffic lights really make decision making easier?
While you are looking at the Choice muesli article run you eye down the long table of mueslis, all with traffic light-type symbols for total fat, saturated fat, sugar and sodium. The first thing you notice is that none of the products gets four green lights. And none of them gets four red lights, so there is no clear endorsement or rejection of any of the mueslis. In fact, the majority of products have a combination of red, amber and green lights – the ultimate mixed message.
How is this supposed to help consumers make a healthy choice? If you were in your car at the traffic lights and the red, amber and green lights all shone at once, what would you do?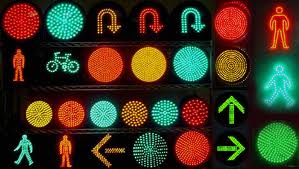 Image: source