The long-held view that carbohydrate-rich foods are protective against heart disease, or at least benign, turns out to be wrong. Carbohydrate recommendations are too high but which carbohydrate-rich foods should be recommended in a healthy diet and which foods should be culled?
One of the most important findings from nutrition research in recent years was that carbohydrate confers similar risk for coronary heart disease to saturated fat. This turned 20 years of dietary advice on its head as it meant that the long-recommended low fat diet was not protective against heart disease. It followed that carbohydrate recommendations were too high and if lower intakes of carbohydrate were to be recommended, it would make sense to preference 'good' carbohydrate.
But what is good carbohydrate? Ask this question to a room full of nutritionists and the argument will go on for hours. Thirty years ago starch was considered good and sugars were bad, based on the assumption that starch was digested more slowly and raised blood glucose levels more gradually than sugars. However, studies of glycaemic index showed this assumption to be wrong. So should nutritionists forget about sugar and start recommending low GI foods? There are also arguments over whether 'wholegrain' or dietary fibre is the better measure of a good cereal food. In the United States, nutrition authorities have adopted nutrient density as an over-arching principle of their latest dietary guidelines. It would certainly make sense to favour nutrient-rich carbohydrate foods if total carbohydrate intake (or calories) was to be limited. So there are lots of options and opinions but no consensus on what represents good and bad carbohydrate.
Against this swirling background Professor Manny Noakes from CSIRO and I recently published a new model for assessing the nutritional quality of carbohydrate-rich foods.
Assessing nutritional quality
The new model has now been published in the journal Nutrition and Dietetics so it won't be reviewed in detail here. Instead I'll highlight some of the more challenging findings.
The model assesses the nutritional quality of carbohydrate-rich foods based on their nutrient density and glycaemic index. Nutrient density was chosen as it reflects the fundamental nutritional role of food – to provide the body with essential nutrients. Glycaemic index was included as it captures how the body responds to the carbohydrate per se. Both measures were thought to be objective and therefore applicable to all carbohydrate-rich foods and drinks. Subjective measures of nutritional quality were avoided e.g. whether foods were natural, fresh, traditionally considered healthy, processed or 'junk'. The challenge was to demonstrate the nutritional quality of foods.
All results were plotted on the grid that appears in Figure 1, which is broken up into four carbohydrate quality quadrants. Quadrant 1 (high nutrient density, low GI) was considered to be the highest quality quadrant. Quadrant 4 (low nutrient density, high GI) was the lowest quality quadrant. To distinguish between the two intermediate quadrants nutrient density was prioritised over GI.
Figure 1: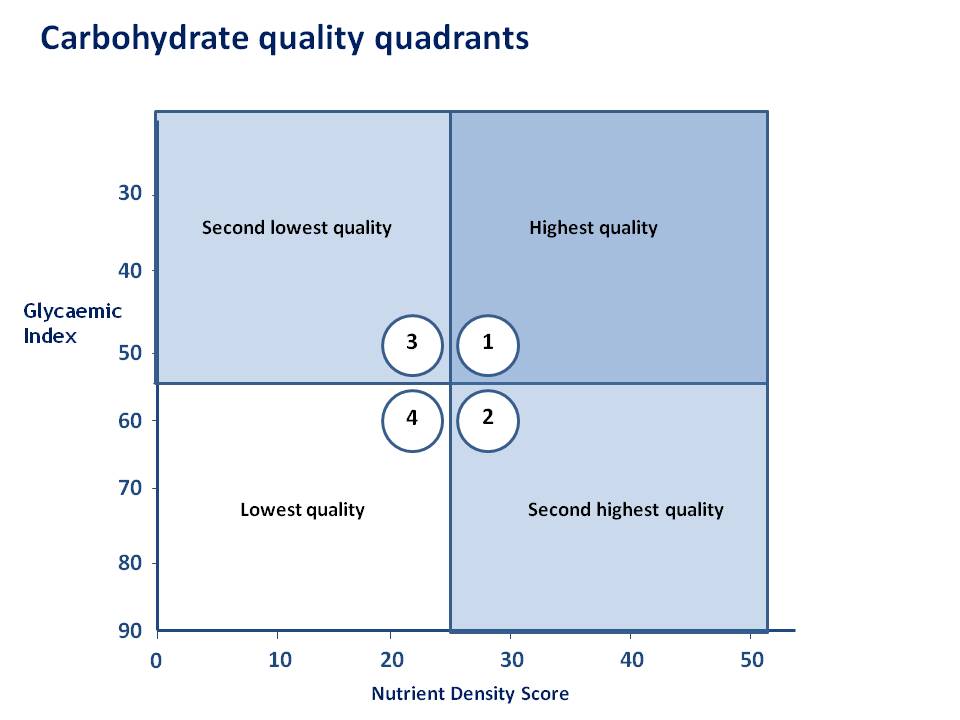 The model showed considerable capacity to distinguish between groups of carbohydrate-rich foods. Of particular interest was whether the model was consistent with the dietary advice frequently offered in relation to these food groups. When legumes were run through the model they clustered in Quadrant 1– the highest quality quadrant, which was certainly consistent with the advice in most dietary guidelines (Figure 2).
Figure 2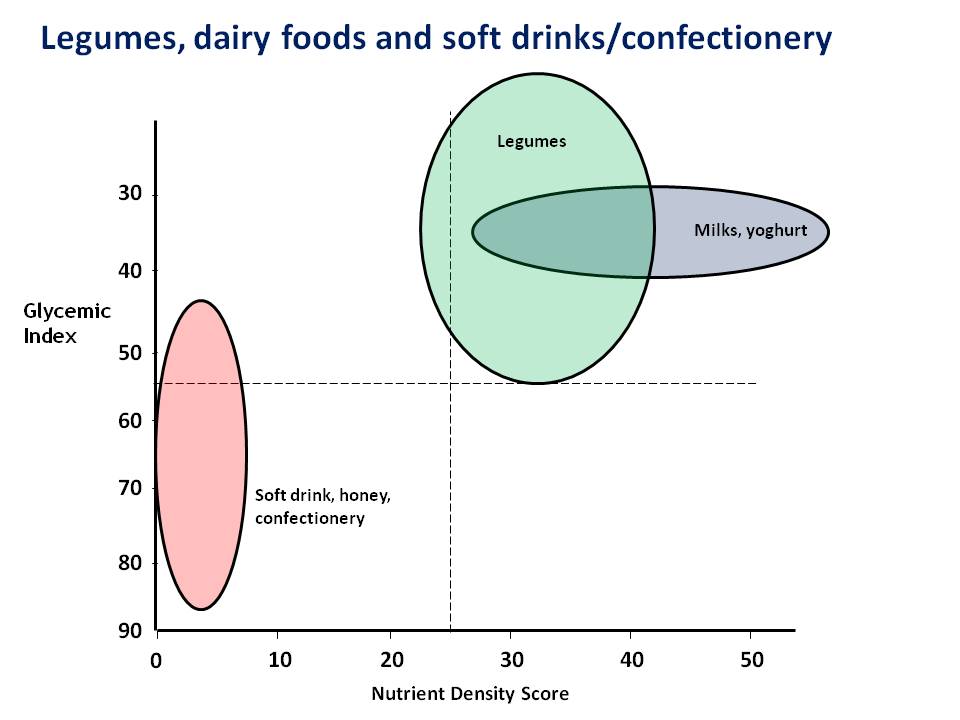 Milks and yoghurts appeared in the top quality quadrant too. The nutrient density of these dairy foods varied considerably due to the 'nutrient dilution' effect of the fat and sugar in some of these foods, but they all still appeared in Quadrant 1. In contrast, soft drinks, confectionery, honey and jam appeared in the lowest quality quadrant. Again, this was very consistent with mainstream dietary advice. So far, so good.
Fruits – a surprise
The model highlighted a few issues that might surprise some nutritionists. Firstly, fruits were not positioned as a tight group in one particular quadrant but were widely dispersed, mainly across Quadrants 1 and 3. In other words, the GI of fruits was typically low but nutrient density varied widely. Although fruits are often described as being nutrient-rich foods, some fruits such as apples, pears and grapes are actually quite nutrient-poor. The nutrient density of apple juice was similar to that of orange cordial. So fruits vary widely in their ability to provide the distinctive nutrients that this group of foods has to offer, though the generally low GIs are a plus.
Cereals – a conundrum
The cereal foods were also widely dispersed, being spread over all four quadrants but they were more concentrated in Quadrants 2 and 4, highlighting major differences in nutrient density. To make sense of the cereal foods I have divided them up into four groups (Figure 3):
• Biscuits, cakes, pastries
• Refined cereal foods (not enriched) – white rice, couscous, polenta, semolina
• Wholegrains (not enriched)
• Enriched cereals foods – breads and breakfast cereals
Figure 3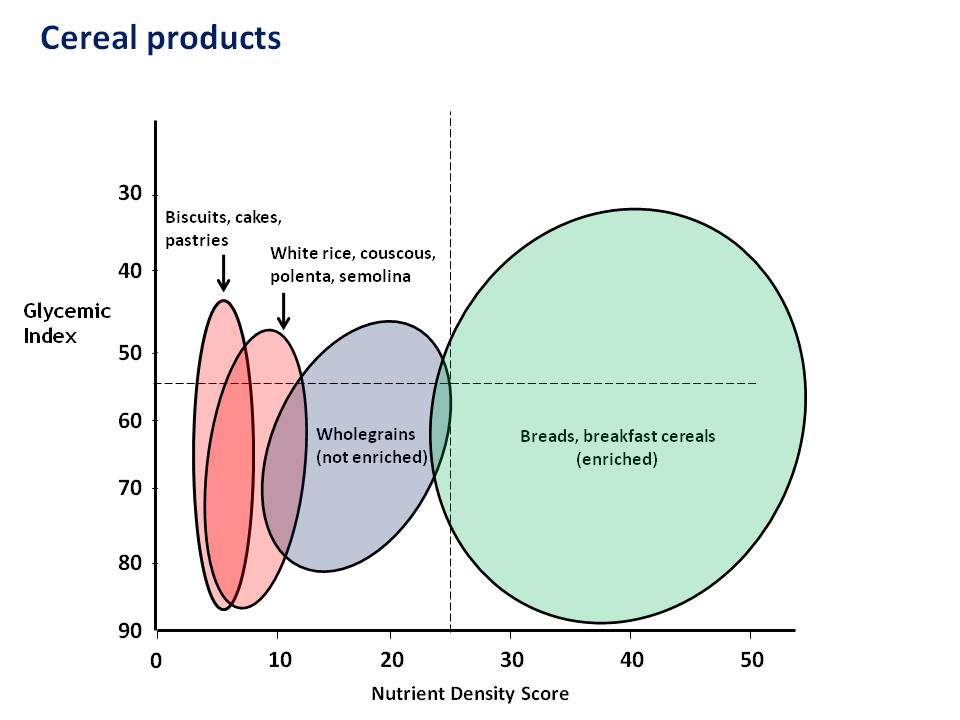 The model placed biscuits, cakes and pastries exactly where you would expect to find them – clustered in Quadrant 4, the lowest quality quadrant. This is consistent with traditional healthy eating advice to limit intake of these foods. But look where the model placed white rice, couscous, polenta, semolina – in virtually the same place. [Actually, the biscuits, cakes and pastries appear marginally to the left, their sugar and fat content resulting in a little 'nutrient dilution'. However, refined cereal foods are so low in nutrients to start with that this effect is minimal.]
Until recently, white rice, couscous, polenta and semolina would have been preferred to biscuits, cakes and pastries on the basis of the latter foods' higher saturated fat content. However, if high GI carbohydrate confers equal (or greater) risk for heart disease than saturated fat, this rationale no longer holds.
The next surprise was the relatively low nutrient density of non-enriched wholegrain foods. They were certainly more nutrient-rich than the refined cereals, notably the wholegrain wheat and oat products, but brown rice was positioned deep in the lowest quality quadrant. Wholegrains are frequently described as being nutrient-dense, but this is simply not the case.
The breads and breakfast cereals mostly fell in Quadrant 2, their nutrient enrichment predictably resulting in higher nutrient densities. The sugar content and the wholegrain status of breakfast cereals were unrelated to nutrient density as this was determined by nutrient enrichment.
What cereal foods should be recommended?
The Dietary Guidelines for Americans (2010) recommended that wholegrain and enriched cereals be included in healthy diets. The logic is clear – the wholegrains provide the fibre in under-supply in the American diet and the enriched cereals provide micronutrients. These recommendations are certainly consistent with our new model.
There is no dispute that biscuits, cakes and pastries should be limited – these foods carry plenty of calories but are nutrient-poor and many have high GIs. In nutritional terms, they have no redeeming features and are logical targets for reduction in healthy diets. However, all of these comments can equally be applied to white rice, couscous, polenta and semolina. Why do Australian nutrition authorities continue to recommend these foods in healthy diets? Doesn't make sense.
What are your thoughts? How much cereal food should people eat? What type? And why?