Evidence that fruits and vegetables prevent cancer has fallen away over the last decade but our national nutrition authorities continue to perpetuate the myth. Why don't they just review the science and give us the facts?
In 1981 the eminent epidemiologists Richard Doll and Richard Peto wrote a famous paper in which they argued that many cases of cancer were due to environmental factors and were therefore potentially preventable. It was suggested that poor diet was second only to smoking as a cause of cancer and could account for 35% of cases. Based on the evidence available at the time, Doll and Peto suggested that increased intakes of fruits and vegetables may prevent cancer. A generation of nutritionists and dietitians embraced the idea with a passion and started communicating the good news.
Better evidence now available
The early evidence suggesting protective effects of fruits and vegetables against cancer came primarily from case-control studies, with all their well-documented bias. Over the last two decades much better evidence in relation to fruits, vegetables and cancer has become available as large prospective studies and in some cases pooled analyses of these studies have been conducted. Most of the results are negative.
The effect of fruits and vegetables on colon cancer risk was assessed in a pooled analysis of 14 cohort studies, with three quarters of a million subjects. The results – no statistically significant effect for fruits alone, vegetables alone, or fruits and vegetables combined. It was the same story in a pooled analysis of eight cohort studies of fruits, vegetables and breast cancer. And no association was found with prostate cancer or lung cancer.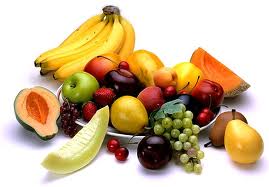 Image: source
Dietary fibre and colon cancer
A recent meta-analysis appeared to provide a glimmer of hope finding that dietary fibre was protective against colorectal cancer. However, when individual sources of dietary fibre were considered only cereal fibre was associated with protection. No significant associations were observed with intake of fibre from fruit, vegetables or legumes. Wholegrains were found to be protective in the same study suggesting that the emphasis of food-based recommendations for the prevention of colorectal cancer should be on grains rather than fruits and vegetables.
Overall cancer risk: the EPIC Study
The European Prospective Investigation into Cancer and Nutrition (EPIC) is the largest study of diet and health ever undertaken, with over half a million subjects from ten countries. The very different dietary patterns between these European countries provided a good opportunity to assess the role of various foods in cancer prevention. A paper from EPIC on the role of fruit and vegetable consumption in relation to overall cancer risk was recently published. Inverse associations between intake of fruits, vegetables, and fruits plus vegetables combined and cancer risk were observed in this study but in each case the magnitude was tiny, just 1-3% reductions. Both the researchers and commentators noted that these results may be due to residual confounding rather than any real effect of fruits and vegetables.
In the accompanying editorial Harvard researcher Walter Willett concluded In summary, the findings from the EPIC cohort add further evidence that a broad effort to increase consumption of fruits and vegetables will not have a major effect on cancer incidence. Willett's view is particularly relevant as not only he is eminent in the field, he is also a vegetarian.
In a recent review another prominent vegetarian cancer researcher, Tim Key from Oxford University, concluded For other common cancers, including colorectal, breast and prostate cancer, epidemiological studies suggest little or no association between total fruit and vegetable consumption and risk.
Tim Key and Walter Willett agree that obesity and high alcohol intakes are associated with increased cancer risk and that these should be the focus of efforts to prevent cancer by dietary means.
Response by health authorities
It is interesting to compare and contrast how various health authorities have responded to these developments. In its extensive 2007 report the World Cancer Research Fund downgraded the evidence of a link between the consumption of fruits and vegetables and the risk for cancer. In the Dietary Guidelines for Americans (2010) the whole section on fruits, vegetables and cancer was removed and the topic is now addressed in a single sentence. This is science in action – the evidence changes, so the advice to the general public changes.
And in Australia?
We do things differently in Australia: witness the draft Australian Dietary Guidelines. There was obviously plenty of interest in whether fruits and vegetables may protect against cancer – no fewer than 21 systematic reviews were commissioned. (You may recall that no systematic reviews were conducted in relation to saturated fat, trans fat, glycaemic index or vitamin D). None of the 21 reviews found more than C Grade evidence of a link between fruits, vegetables and cancer.
However, why let a lack of evidence stand in the way of a good yarn? In the draft Australian Dietary Guidelines the section devoted to fruit, vegetables and cancer has doubled in size since the previous edition. Using terms such as 'evidence suggests' and 'emerging evidence' the Guidelines paint a misleading picture suggesting that scientific support for a protective effect of fruits and vegetables against cancer is actually building, contrary to the findings of the Guidelines' own literature reviews. Over a page of text is dedicated to mechanisms explaining the protective effect of vegetables, legumes/beans and fruit for some cancers. What protective effect do you imagine the authors are talking about? Truly bizarre.
So in Australia the science may have changed but the message stays the same. Why are our national nutrition authorities attempting to perpetuate a myth rather than distilling the evidence and giving us the facts? If this section is not aligned with the evidence in the final version of the Dietary Guidelines it will mislead all who read it.