High fat, calorie-rich foods have long been thought to be fattening and policymakers continue to recommend their restriction in order to prevent obesity. However, scientific support for this advice has fallen away. The latest research suggests that identifying foods that promote future weight gain is much more challenging than previously thought, with carbohydrate quality playing a central role.
Traditional dietary advice for preventing obesity has revolved around eating less calorie-rich food. In the 1980s and 1990s the best way of achieving this was thought to be by limiting total fat intake and this became the core strategy for the prevention of obesity. It made good sense as gram-for-gram fat contains more calories that protein or carbohydrate – lower fat foods are lower calorie foods. By the turn of the century, dietary advice for obesity prevention evolved to limiting intake of 'energy dense' (calorie dense) foods. This was a small change in emphasis as the key drivers of energy density are fat and water content.
Lowering the fat content or energy density of the diet as a means of preventing obesity makes so much sense to nutritionists and dietitians that it is seldom challenged but the unfortunate reality is that these recommendations can no longer be supported scientifically.
Changes in diet and weight gain
A challenging paper assessing the effects of dietary changes on future weight gain appeared in the New England Journal of Medicine last year. The researchers assessed data from three large prospective cohort studies conducted in the United States, with a total of nearly 121,000 men and women, in order to assess how increased intakes of specific foods affected weight gain over time. The results were similar across the three cohorts, increasing confidence in the validity of the findings, but they were at odds with convention thinking.
Most of the foods that were positively associated with weight gain were not energy-dense or high in fat; they were rich in starch or refined carbohydrates (see Figure 1). Potato, both fried and boiled, was one of the foods most strongly associated with weight gain. Refined cereal foods were also associated with weight gain, irrespective of whether the carbohydrate they contained was in the form of starch or added sugar.  Among beverages, both soft drinks and orange juice (lower fat, lower nutrient density) were linked to increased weight gain whereas whole milk (higher fat, higher energy density) was not. Increased intake of nuts, high in fat and energy density, was actually protective. The fat content of dairy products was unrelated to future weight gain, with low fat milk, full fat milk and cheese all having similar, neutral effects. And yoghurt was protective.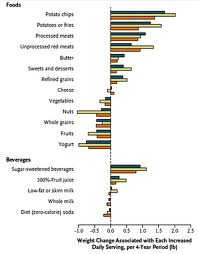 Figure 1: source
 Nutritionists can take heart that some aspects of current dietary advice for obesity prevention were supported by the study e.g. increased intake of wholegrains, nuts, fruits and vegetables (excluding potato) were protective against weight gain. The researchers suggested that the higher fibre content and slower digestion of these foods may augment satiety, providing a plausible mechanism explaining the findings. It was also suggested that the consumption of rapidly digested starchy foods may be less satiating, increasing hunger signals and total calorie intake. The associated press release highlighted improving carbohydrate quality as one of the most useful dietary metrics for preventing long-term weight gain.
With refreshing frankness the researchers concluded that Our findings highlight gaps in our mechanistic understanding of how dietary characteristics alter energy balance. They stated that Several dietary metrics that are currently emphasised, such as fat content, energy density and added sugars, would not have reliably identified the dietary factors that we found to be associated with long-term weight gain. Unfortunately, these metrics continue to be seen as relevant to obesity prevention by policy makers in Australia today.
 Image: source
Energy density: past its use-by date
The failure of energy density to predict future weight change in the US study should not have come as a surprise. The energy density hypothesis was based on a questionable assumption i.e. that humans eat the same weight of food each day, so eating energy dense foods leads to 'passive overconsumption' of calories. However, the hypothesis was based on the findings of short-term studies lasting less than five days. Better, longer-term studies are now available.
The role of dietary energy density in weight change over time has now been assessed in six prospective cohort studies but they provide little support for the hypothesis. The largest and most recent of these – the EPIC study – found no association between energy density and weight change after 6.5 years of follow-up. Another publication from the EPIC study found that fat intake was not associated with weight gain, the authors concluding with These findings do not support the use of low-fat diets to prevent weight gain.
The best test of a hypothesis is the randomised controlled trial and three relevant trials have been published (discussed in a recent review). All were cancer prevention trials using low fat diets, high in fruits and vegetables i.e. low energy density diets. After between 4 and 7.5 years, mean body weights in the intervention groups were less than one kilogram above or below those in the control groups in all three studies. In other words, the effects on body weight of years on a low energy density diet were negligible.
It would appear that people adapt to a low energy density diet by increasing food intake in the medium term, presumably due to regulatory mechanisms driven by calorie requirements. When you think about it, it would be very strange if humans could not adapt to different food environments.
Fat, energy density and the draft Dietary Guidelines
No association between dietary fat and obesity was found in the systematic literature review conducted for the Australian Dietary Guidelines currently under development. Unfortunately, no review of energy density and obesity was conducted. Despite the total lack of an evidence base, the draft Guidelines stated that Reducing the amount of dietary fat will not necessarily reduce dietary energy, but it is prudent to choose low fat and low energy density foods …
Since when is it 'prudent' for public health nutrition policy to be based on no evidence? Obesity prevention based on lowering fat intake and energy density is a good example of dietetic dogma – beliefs deeply held by nutritionists that are no longer supported by science. It's to our discredit that we can't respect our science, admit past mistakes and modify old dietary messages that we know to be wrong.