In the movie That Sugar Film Damon Gameau set about testing the effects of a high sugar diet on his healthy body. He increased his sugar intake to 40 teaspoons a day on the basis that this was 'just slightly more than that of the average teenager worldwide'.
That's an interesting claim but is it true?
Actually, it's a strange measure to have chosen as it is almost impossible to verify. Most countries in the world simply don't have good dietary data on teenagers, or adults for that matter. Let's look at the available data and consider whether the claim is close to being right.
Any global average for sugar intake will be greatly influenced by typical intakes in populous countries such as China, India and Indonesia. Yet sugar intakes in these countries are very low – of the order of 20 grams per day or less, which equates to a miserly 4 teaspoons of sugar per day.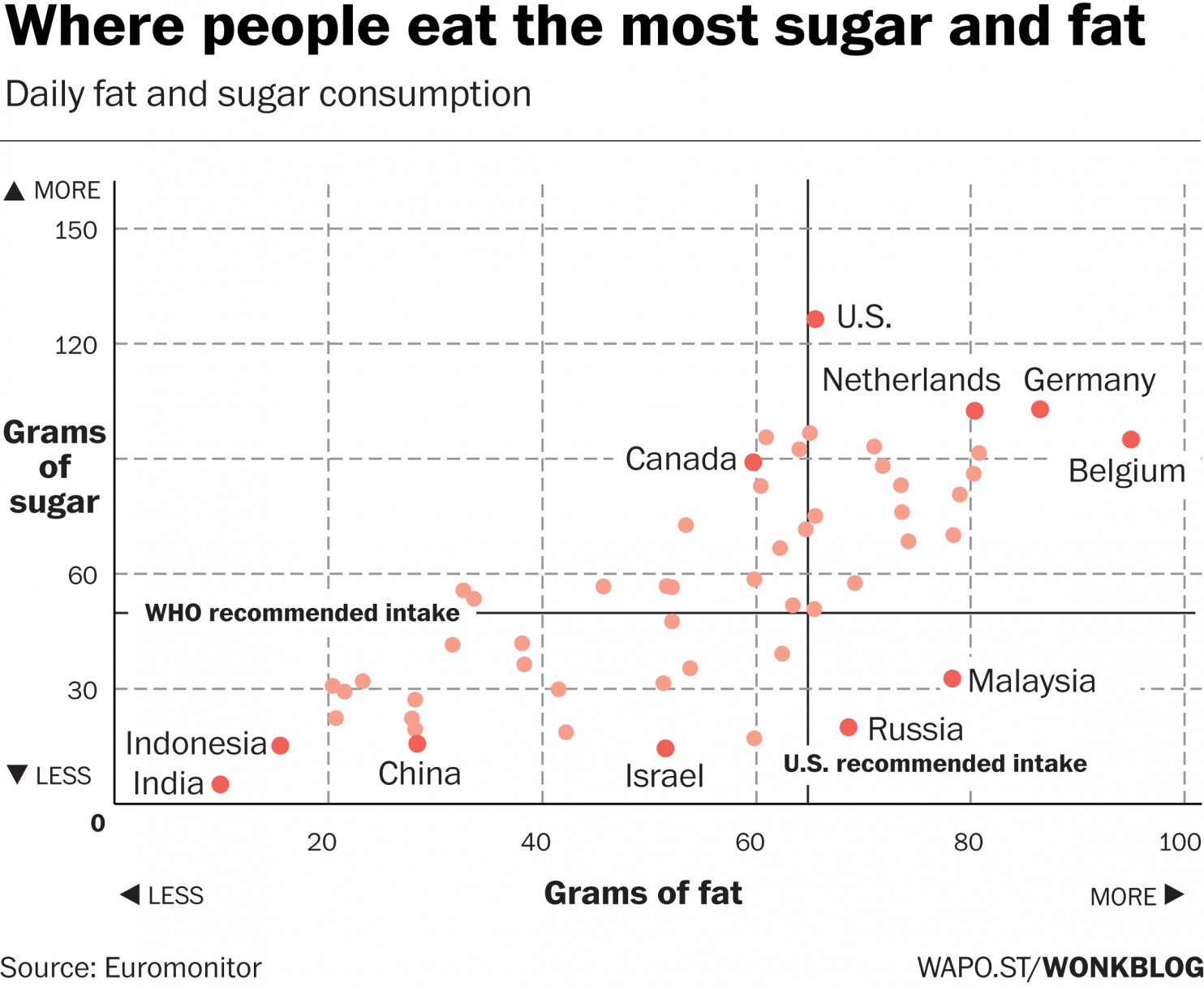 Image: source
Added sugars or total sugars?
The figure used in That Sugar Film may have been referring to total sugars i.e. the naturally occurring sugars in fruit and milk plus 'added sugars'. I'm not sure why anyone would be concerned about naturally occurring sugars but let's push on.
Intakes of total sugar in China, India and Indonesia would be more than twice that of added sugar, maybe 10-12 teaspoons a day. If we assume that teenagers in these countries consume more sugar than everyone else their intake could be about 12-16 teaspoons a day. That's still a long way from 40.
American sweet-tooths
One populous country stands out from the rest when it comes to sugar intakes – the United States, which fortunately has good dietary data. Sugar intake in the US appears to have peaked in the early 2000s and has been falling since, largely driven by falling intakes of sugary soft drinks.
Currently, adolescents in the US consume about 18 teaspoons of added sugar each day or about 28 teaspoons of total sugars. The makers of That Sugar Film chose to use a level teaspoon (4.2g) as their chosen measure rather than the usual 5g teaspoon, which inflates the intake up to about 33 teaspoons a day – still well short of 40.
So the figure for sugar consumption chosen for That Sugar Film was nothing like 'just slightly more than the average teenager worldwide'.
Sugar intakes of Australian teenagers
For the record, the average Australian aged 14-18 years consumes about 24 teaspoons of sugar a day, about half of which occurs naturally in fruit and milk.
Had the makers of That Sugar Film consulted with someone who actually knew what they were talking about they would have avoided misleading their audience. Then again, perhaps that was the idea.
Views on the health impact of sugar and carbohydrates more generally differ quite widely and there is plenty of room for debate, but it needs to be informed debate. Wild overstatements don't help and diminish the credibility of those who make them.