One of the more commercially driven myths circulating at present is the idea that somehow saturated fat is better for health than carbohydrate. Virtually all the low carb advocates push this argument, but why would they do that?
The changing science
The science relating to how much of what we should eat for good health has certainly evolved in recent decades, but it's not a simple story.
• In the early 1980s, most health authorities recommended that saturated fat in the diet should be limited to lower heart disease risk.
• At that time trans fats were thought to be neutral but by the 1990s they were considered be as bad as saturated fats. And by the 2000s trans fats were thought to be worse than saturated fat.
• Three decades ago carbohydrate was thought to be the ideal replacement for saturated fat, which led to widespread support for low fat diets. But by the late 2000s scientific support for low fat diets had dropped away.
• Although the early science indicated that unsaturated fats may be the best option to replace saturated fat in the diet somehow they were less preferred to carbohydrate. Their time has now come.
The Willett Model
Harvard nutrition guru Professor Walter Willett has developed a simple model for explaining the current state of the science. His model puts saturated fat at the centre of our attention and then shows how heart disease risk is affected when other nutrients replace it in the diet.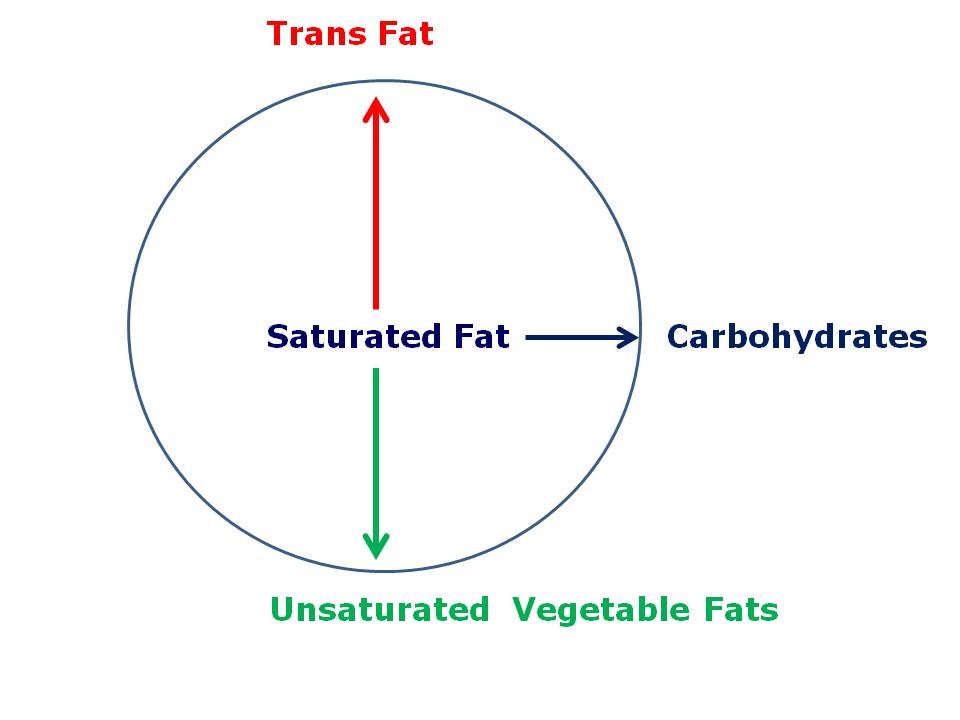 Key points to note are:
If trans fats replace saturated fats in the diet, heart disease risk goes up. So trans fats should be minimised in the diet, which has been successfully achieved in Australia.
If unsaturated fats replace saturated fat, heart disease risk goes down. The resulting Mediterranean-type diet is moderate in total fat but enriched in unsaturated fats. This is now the preferred foundation for a heart-healthy diet.
Which brings us to the third point: there is no advantage in replacing saturated fat with carbohydrate, or vice versa. Heart disease risk is unchanged. The big lesson for nutritionists from this was to stop advocating low fat diets for heart disease prevention. The other lesson – for the general public in particular – is to ignore all the rhubarb from low carbohydrate advocates who argue that we should all eat more saturated fat, in general, and more coconut oil in particular. It has no basis in science.
Dubious motives
The motives of the saturated fat enthusiasts are particularly dubious. Not content with pushing the myth that saturated fat is better for health than carbohydrates they further muddy the waters by demonising 'seed oils', which is code for unsaturated fats. So we are asked to believe that carbohydrate and unsaturated fats are both evil and therefore the only safe thing for us to eat is saturated fat. Claptrap of the highest order.
Needless to say, all of the world's leading nutrition authorities do not support these arguments.
If your suspicions were not already fully aroused, ask yourself why these dietary myths are pushed by non-nutritionists via social media. Hmmm, you don't think it could be a thinly-veiled marketing campaign for coconut oil, do you?