Cursed with having studied nutrition at university I had been labouring under the misunderstanding that fluoride was a nutrient that helps prevent tooth decay when consumed in small amounts. But after a quick surf through the net I now realise that fluoride is actually a toxic drug that causes many serious health problems, including thyroid dysfunction, weight gain, osteoporosis, infertility, neurological harm, impaired visual-spatial organisation, early onset of puberty, arthritis, hip fractures, depression and behavioural problems.
Yikes! Why are our so-called health authorities putting this dreadful toxin in our drinking water?
Fluoridation: the pollution of our precious bodily fluids
An enlightened few have known about the dangers of water fluoridation for decades and have tried to warn us. In Stanley Kubrick's 1964 film, Dr Strangelove, there is a telling scene in which General Jack D. Ripper, played by Sterling Hayden, ignores a hail of bullets from his own troops and asks a cowering colleague whether he has ever heard about water fluoridation.
Ripper then explains that "… fluoridation is the most monstrously conceived and dangerous communist plot we have ever had to face … I can no longer sit back and allow Communist infiltration, Communist indoctrination, Communist subversion and the international Communist conspiracy to sap and impurify all of our precious bodily fluids".
Of course, General Ripper has totally lost it. Prior to the fluoridation scene he ordered the 34 B52 bombers under his command to make an unprovoked nuclear strike on Russia.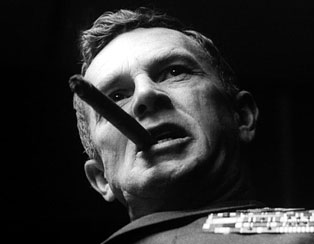 Early anti-fluoridation campaigner General Jack D. Ripper (source)
The crazification factor
Why does anyone listen to the modern day General Rippers and their bizarre claims about fluoridation? Dentist and public health epidemiologist Michael Foley puts it down to the crazification factor i.e. 'the percentage of the population with a tenuous grasp on rational thought and an eagerness to embrace the conspiracy theory de jour'. Although willing to accept many conspiracy theories as harmless nonsense, Foley draws the line at those things that have the potential to adversely affect public health.
The NHMRC position on fluoridation
And public health is what fluoridation is all about. The National Health and Medical Research Council states that '… water fluoridation is the adjustment of the natural fluoride concentration in fluoride-deficient water to that recommended for optimal dental health.
Most of the world's water naturally contains between 0.2 -10 mg/litre of fluoride, Australian water supplies being at the lower end of the scale i.e. fluoride-deficient. The fluoridation levels in Australian states vary between 0.6 and 1.0 mg/litre, the aim being to provide the Australian people with the Goldilocks level of fluoride – enough to prevent tooth decay but not enough to cause 'fluorosis of aesthetic concern' i.e. the mottling of the teeth that can occur at higher intakes of fluoride intake.
New review by NHMRC
The NHMRC is currently reviewing its policy on fluoridation but don't expect any radical changes – the cool, calm world of science is a far cry from the hysteria on the internet. In a recent media release an NHMRC spokesman said "Based on the work already conducted in the review, NHMRC is expected to maintain its support for the fluoridation of water supplies."
Better grab your gun! Our precious bodily fluids remain under threat!